Welcome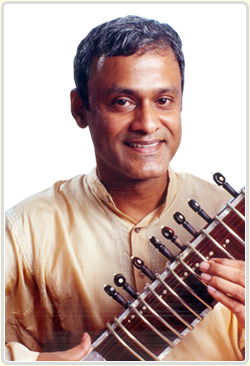 An accomplished award winning Indian Classical Sitar performer / teacher and a creative and versatile musician, Sanjeeb Sircar has a music career of more than three decades during which he has performed and taught music at many places in India, including Italy, USA, Australia and England
Both the Gayake and Tantrikari of the Imdadkhani and Senia Gharana styles are to be found in his rendering of a Raga.
He holds a master's degree in Indian Music (Sitar), from the Prayag Sangit Samiti, Allahabad, and a diploma in Indian Music (Sitar), from the Benaras Hindu University, Varanasi.
Prominent among his teachers are Ustad Shujaat Khan, the late Pandit Banwari Lal (1912-2003) of Allahabad, Dr. Raj Bhan Singh, and Dr. K.C. Gangrade of Varanasi . He has also attended lecture demonstrations / workshops performances of numerous eminent scholars and musicologists including Sitar Maestro, Pandit Ravi Shankar, over the years.
Apart from playing the Indian Classical Sitar, his primary instrument, he has learned to play the Piano, Tabla, Guitar and Choir Music. more >>